Corner Frame Shop services
We Frame Anything!
5,000+ frame choices
Decades of design expertise
Canvas stretching, shadow boxes & more
Unusual and large jobs welcome
Leucadia Art Gallery
Originals and Giclee Prints,
Oils, Acrylics, Watercolors,
Photographs, Posters,
Mirrors and unique items
The Corner Frame Shop has been a community staple for more than 40 years servicing Encinitas and surrounding North County San Diego for all custom picture framing needs.
Our seasoned staff has decades of design and framing experience in guiding clients to achieve the best outcome to meet their art goals. Upon entering our showroom and design area, clients quickly realize the magnitude of our beautiful custom moldings, carefully curated for their choosing. To keep our clients from feeling overwhelmed by our vast selection of choices in matting, fillets and frames, our designers are skilled at helping select the perfect design, keeping the client's style and budget in mind. The design process is easy and fun!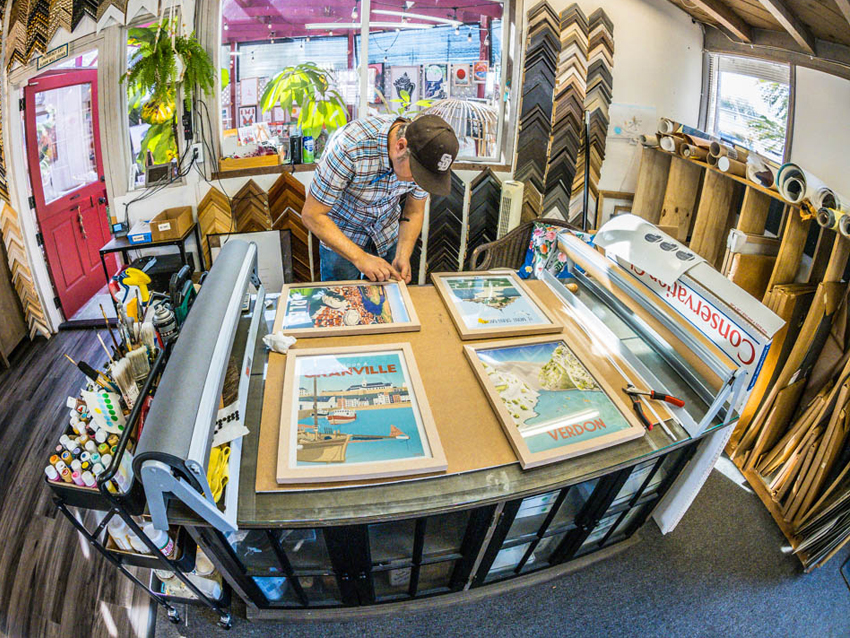 Expertise
We specialize in methods that help conserve and protect art of all shapes and sizes, photography, garments and objects. Expert canvas stretching, shadow boxes, jersey mounting, textiles, repairs, custom mirrors, tiles, puzzles, oversize and unusual jobs are all welcome.
Experience
Craftsmanship is our forte and we take enormous pride in working with and solving complicated projects for our clients. Each framed piece is guaranteed to last for decades to come. We look forward to continued service and bringing awe and joy to our clients for their design needs.