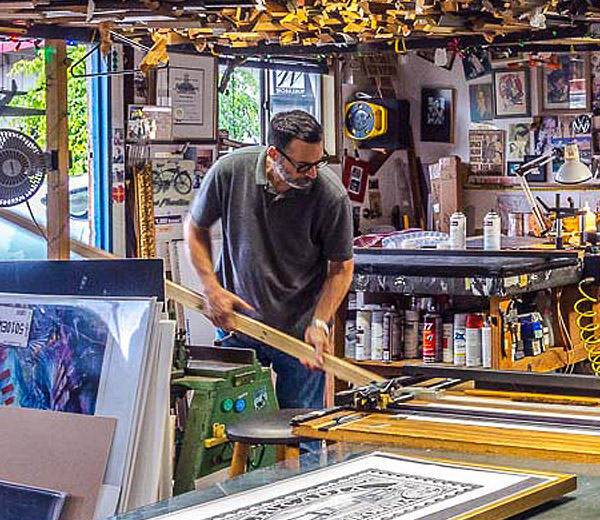 Mark Allen//Senior Framer
Mark was born and raised on the East Coast, before moving to Encinitas just in time to attend San Dieguito high school. He has always been interested in art, cartooning, and drawing, showing an aptitude for illustration since he was a small boy. Mark started working at the Corner Frame Shop in the ancient year of 1988, and eventually became Morgan's right hand man. He has dedicated himself totally to the business and takes great pride in his work.
He is a true craftsman, honing his trade over the years, specializing in intricate repairs and creative solutions for design challenges. He is an accomplished artist, selling many paintings and drawings in the Leucadia Art Gallery. He prefers to stay in the workshop making cool stuff, but always pops his head out to say hi to the clients. We can't live without him, even when we want to kill him. Mark loves anything with a motor: cars, planes, boats, especially vintage mini bikes. He likes to see how machines work and enjoys taking them apart and rebuilding them. He loves working with his hands, and any excuse to be creative.
Kelli Thompson//Shop Manager, Senior Designer
Kelli, a fourth generation Leucadia local, grew up climbing her great grandpa's avocado trees, eating Karina's burritos and swimming in the ocean. Today she has the privilege of managing the frame shop and gallery, a staple of her hometown. Kelli has been a picture framer for sixteen years, spending the last seven here at the Corner Frame Shop. She loves the entire framing process, from the design consultation to the craft of framing to the unveiling of the finished product. She is dedicated to continuing the legacy of her late mentor and founder of the business, Morgan.
Kelli lives with her husband Matt and their three little boys, one giant cat, and one tiny dog. She loves to spend her time veggie gardening, camping, swimming, cooking and cake decorating, crafting and clean constantly in the wake of her gang of stinky boys. She does NOT enjoy helping with 4th grade math homework.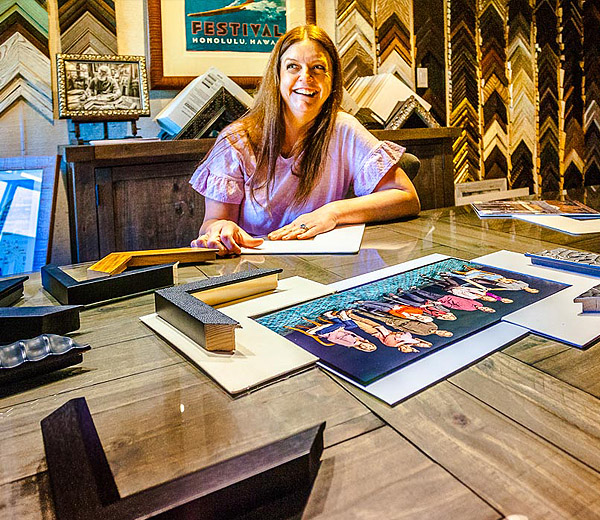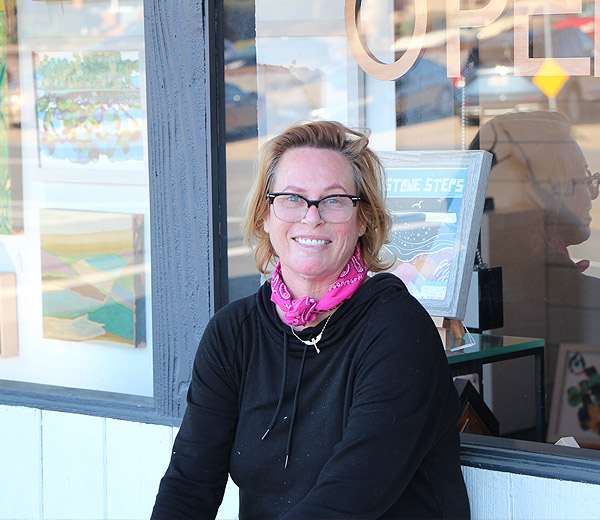 Sue Mallory//Designer/Framer
Mother of Martha and Joe Mallory, cat, 2 chickens, and a worm farm. Wife of Tom and sister-in-law of Morgan and Brenda.
Makes soup. Gardener, nature and bee enthusiast and outdoor putterer. Loves solving practical, conceptual, and mechanical problems. Likes old cars, trailers, and vintage design. Enjoys making stuff, recently, felting small animals.
Life long dream is to have a hedgehog to spoil with kisses.
BA Illustration Art Center College of Design, Pasadena, CA. Certified Nursing Assistant.
Daniel Wendt//Designer/Framer
Daniel is one of our designer-framers. A resident of Encinitas for 31 years, originally from Northern California, Daniel moved to Encinitas with his family back in 1991.
Huge fan of art, enjoys working with art from all around the world. A geek for anime, comics, graffiti and chess. Heavily into pen and ink sketch, anything steampunk, industrial, tech.
Has a keen eye for color and has the ability to mesh together a unique design for your art, family photos, anything you are looking to get framed.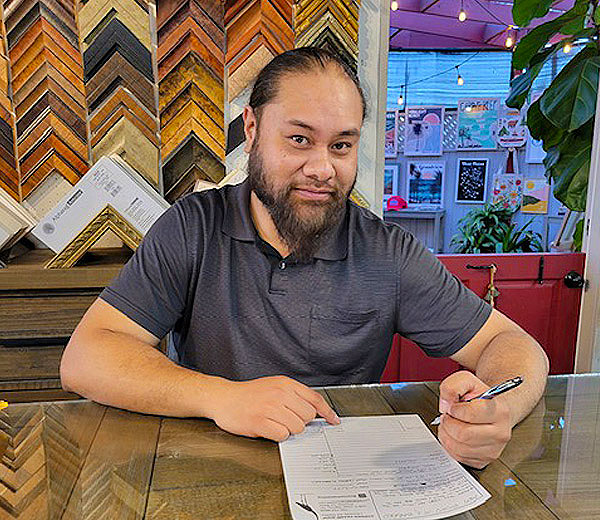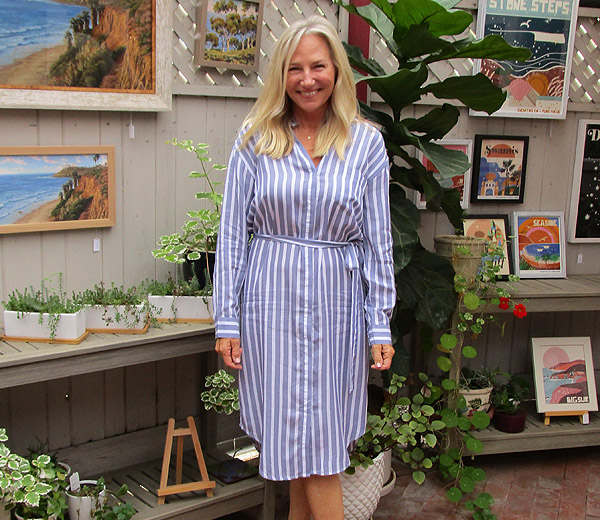 Brenda Dizon//Owner
Brenda never imagined she would own her husband's famous Corner Frame Shop & Leucadia Art Gallery, an established gem located on Coast Highway in Leucadia since 1978. After Morgan's sudden demise, she decided to take it on and remodeled the business for a fresh new look while working with the established crew who make all the magic happen. Brenda has a 30+ year career in real estate finance and has been quite actively involved in her community of Cardiff by the Sea, now expanding to Leucadia to help carry on Morgan's contribution to the arts.
Her daughter Alexis, son in law Justin and adorable grandson, three year old Maddox all reside in Maui where she frequently travels working remotely and getting grandmother time in as often as possible. She enjoys traveling and all sports but playing a lot of pickleball lately while enjoying the gorgeous coast and Encinitas lifestyle.