In 1978, our founder Morgan Mallory, began with a small art gallery and frame shop on the Coast Highway in sleepy Leucadia, California, about 30 miles North of San Diego. Morgan worked tirelessly for 4 decades to promote the arts in our little beach town. He was also very civic-minded and dedicated much of his time to the betterment of our community.
Morgan was the founding President of the Leucadia 101 Mainstreet Association, working to create projects like The Leucadia Farmer's Market, Leucadia Art Walk, and the Leucadia Streetscape project. Morgan was the kind of guy that everyone in town knew and loved. He was passionate, hardworking, creative, talented, and funny as hell.
In September of 2019 Morgan suddenly passed away, leaving us heartbroken and without our leader. Luckily for us and the amazing community that rallied around us, Morgan's wife, Brenda Dizon, took the reins and allowed us to keep our jobs, and the Corner Frame Shop & Leucadia Art Gallery entered a new era. The next year, operating in survival mode, we managed to survive a 2-month shutdown due to the coronavirus pandemic. All throughout this time of grief, we were able to funnel our energy into renovating our shop and working on maximizing our efficiency, while maintaining our close ties to our community, and working hard to deliver an elevated custom product. Our team consists of long-term employees, armed with decades of skill in craftsmanship and design. Our passion is designing, then creating the most uniquely beautiful and masterfully crafted picture framing possible.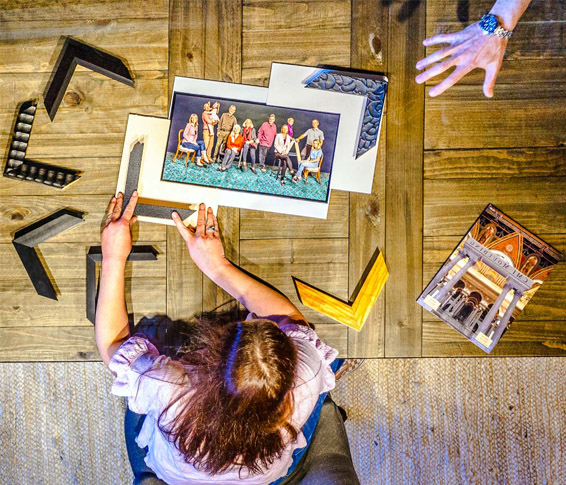 Corner Frame Shop
Our focus has always been on design. We make sure to carefully assess the aesthetic needs of your art, photos, or treasures, as well as the long-term conservation needs.
When you come in to our shop, a designer will guide you through a fun process to choose the best possible framing to fit your style and your budget, and most importantly, that visually enhances your art while protecting and conserving it for years to come. After you choose something perfect from our 5,000+ moldings, our experienced framers will craft your frame by hand, in-house. We strive to deliver a product that will stand the test of time, ensuring your inevitable addiction to the art of custom picture framing! We also make custom mirrors for every room of your house, and love working with interior designers. After hours appointments are available.
Leucadia Art Gallery
Our art gallery is carefully curated to reflect the beauty of our surrounding beach communities, the natural coastal wonder of San Diego, and our local surf culture. We love our town of Encinitas, and sell a wide variety of art focused on the magic of North County San Diego and the Southern Californian coast. Our artists create with a variety of mediums, including plein air style oils, acrylics, watercolor, ink, sculpture, and photography. We have original pieces as well as more affordable art and giclée prints. Everything, of course, is framed exquisitely. Please make sure to make it all the way out to the patio, where you can relax a few moments and enjoy the beauty of your surroundings. We like to hang whimsical and casual art here and change it up daily. What unique and special treasure will you bring home?